Leaving Stockholm, we sailed past the most beautiful scenery we have every seen.  Sweden is so fantastic - the woods lead right to the sea.  We just couldn't believe it was real.  Here are some pictures of the Swedish coastline.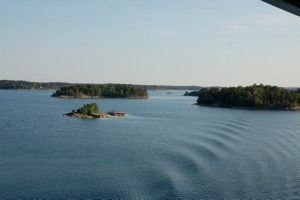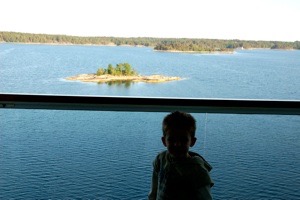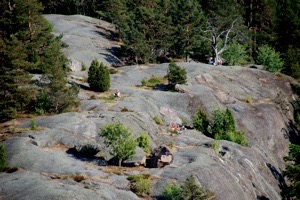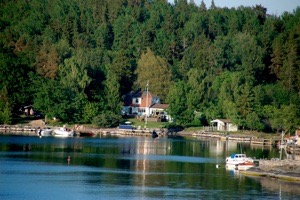 It is such a beautiful country.  It is nice to see there are so many miles of wilderness like this left in the world.  On our way back to Dover, we past under the second largest suspension bridge in the world.  It connects Denmark and Sweden.  It was pretty cool to see a ship this huge go under a bridge.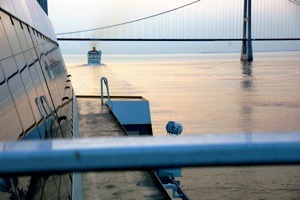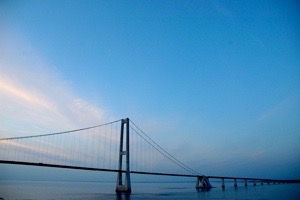 Here is Hayden visiting the bridge.  He really liked to keep track of the wind speed, currents, and our location.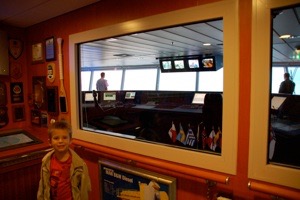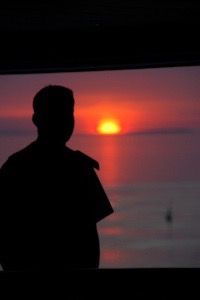 Yesterday, Hayden got the chance to do a ship-wide announcement as a junior cruise director.  He was so excited.  Here is his big announcement.
The kids are at the kids club pajama party and we're in the room, getting ready to pack everything up.  Tomorrow, we catch the train back from Dover to London.  We hadn't booked a hotel for our last day in London, and I was just about to book one last night.  Hotels are really expensive in London - like $500 a night and up for an okay hotel.  I was just about to pay almost $500 for a decent place, but checked one last time on Hotwire.  We have been so lucky on this trip, and we were able to book a 4 1/2 star in Mayfair for tomorrow night for just over $300.  We'll be at Le Meridien in Piccadilly Circus, so that will be cool.  We are going to try to hit Hyde Park and Buckingham Palace tomorrow before we prepare for the long trip home.
This has been a really incredible trip.  We feel like we have seen so much more of the world and learned a lot about the amazing countries we've visited.  It will be great to get home, but we are really sad this trip is coming to an end.  I don't know how I am going to go back to my regular life, without a butler or a concierge or a steward taking care of our every need!  We miss everyone so much and we'll be home in a few days!