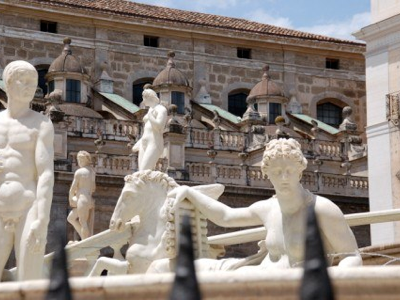 Wednesday morning we checked out of our Barcelona apartment and caught a cab to the port. We were able to get on board the ship pretty quickly. We checked things out for a while and Hayden stayed to play at the Oceaneer's Lab. Our room is much bigger and nicer than we expected. Everything on the ship is beautiful and the people and service are great. It definitely has a different vibe than the first part of our trip. It felt weird to hear everyone speaking English and we missed feeling like we were in our own little bubble as we walked around Barcelona only understanding every few words when we talked to people. This is a fun experience too, just different.
Thursday was our day at sea. We took the kids to the kid programs and went to the gym and then for a run. We headed to the pool for a while, and just relaxed most of the day. We were able to get reservations at the 5-star restaurant on board, so the kids went to the childcare for a few hours late last night and we got to have a great meal and some good wine. It was a good time.
This morning, we docked at Palermo, Sicily, our first port of call. The first thing that strikes you about the city is that it is old. It's very beautiful, but in its own way. The statues and architecture are amazing, but the crumbling walls all around add to the sense of history and makes everything seem that much more monumental. We walked the city for hours listening to the loud conversations, checking out the great clothes and shoes in shop windows, and maneuvering the stroller over the very bumpy and narrow stone and marble streets. The men are very fashionable and macho. They were very friendly to me – not so much to Neil. Again, the people here were really nice to Hayden and Violet. Our waiter loved it when Hayden said "Gratzi."
Tonight, we're leaving Palermo and heading to Naples. We will spend the day there tomorrow with the kids, and then go out for drinks on our own in the evening. Both the nursery and kid programs are unbelievable. It has been so great for us to have some time for us. When we booked the cruise, the nursery hours for Violet were limited to 10 hours a week per family. We maxed out our hours when we registered online, but because there are so few babies on the boat, we have been able to get Violet in whenever we've needed to. Hayden can go anytime from 7 in the morning until midnight every day. We were able to schedule it so Hayden and Violet will stay on board from 7 – 11:30 next Friday night so Neil and I can go to Monaco and do the casino on our own. These are some pictures from Palermo today. The internet service here is very expensive and pretty slow, so not as many pictures as we would like to post.