Today, we were supposed to go to the Library of Congress, but we didn't because we slept late and missed the tour.  So, we just headed towards the Capitol.  We had a tour there.  We got to see lots of great architecture, paintings and statues. Here are some pictures: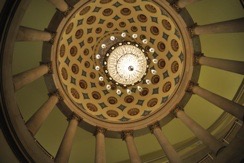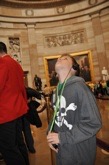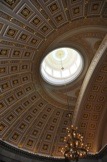 The top picture is not the Capitol dome, it is a smaller interior dome.  The other pictures are the main Capitol dome.
Our tour was amazing. We saw such cool stuff!  After are tour, we had passes to see the Senate and House of Representatives, so we did.  We went to the Senate first.  It's election season, so the House and the Senate weren't there.  But it was still cool.  The House of Representatives was also very cool. I also liked the underground tunnel to the Library of Congress (the place we slept too late to go to).  We got to see it, we just didn't have a tour.  I'm glad we did!  They had cool old maps and globes;  even one from 1507!  We couldn't go in to the reading room, but it was still awesome.
Then we were going to go to the Bureau of Engraving and Printing, but it was only open until 2:00.  So, we raced over there!  We took the Orange Line Metro to the Smithsonian station, jumped out, and ran toward the Bureau.  We made it!  But, the 2:00 tour sadly was full.  Then we had to figure out something else to do. I suggested the Washington Monument, but it was closed!  Did you know an earthquake made it unstable?  The Lincoln Memorial was nearby, so we did that.  It was so cool!  Here's my second picture group: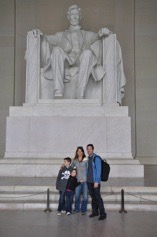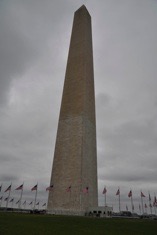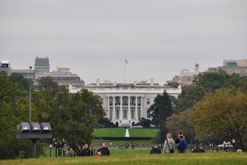 The first picture is the Washington Monument (the one that was closed).  The middle one is the first time I spotted the White House.  The last one is us and Abe Lincoln at the Lincoln Memorial.
After the Lincoln Memorial,  we were far from the Metro!  We had to walk very far, across the Potomac all the way to the Arlington National Cemetery.  We didn't see the cemetery, we just took the Metro.  When we finally got home, my legs hurt so bad!
Signing off for now...    - Hayden