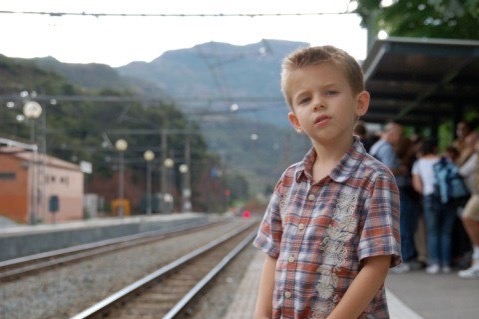 We just found a power converter, so we are back!
Our trip started out a little hectic. We found out the night before we left San Diego that our flight was cancelled. After an hour on the phone, we were able to get on a flight on another airline that would still allow us to connect at JFK to Madrid. The first leg of our flight went great. We had three seats together and each had its own video screen with live TV and games. Violet was great and had a good nap on the way to New York.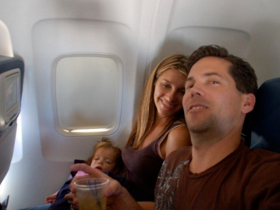 In New York, we had just enough time to get to the right terminal and board the plane to Madrid. There were about a million planes ahead of us for take off, so we sat on the runway for an hour before we could depart. Violet took that opportunity to concentrate on pooping and the militant stewardesses wouldn't let anyone use the bathrooms until after take off. We finally arrived in Madrid late (after Violet screamed for about half of the six hour flight), and barely made it through security to our third flight. This flight was, in a word, hell. What with the screaming and the diaper smell - everyone on board LOVED us.
Here's Hayden in the Madrid airport.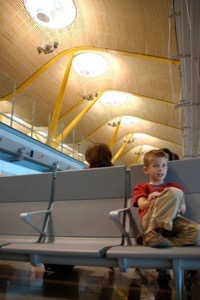 We got to Barcelona, waited (forever) to get through customs, and went to meet our driver (who wasn't there). It took us about two hours to figure out how to use a pay phone and call the office where we rented the apartment. We had to get our own taxi and find the office and then the apartment on our own. When we got here, the maid was still cleaning, so we tried to cruise around the neighborhood while she finished. But, after being awake for two days straight and without any food, we had to tell the maid "necessito dormir" and crash in the bedroom while she cleaned the rest of the place. We thought we were going to have time to kill in airports all along the way, and time to eat between flights, but we barely made each of the flights. Anyway, after some rest and food, we were all feeling good and ready to check out the city.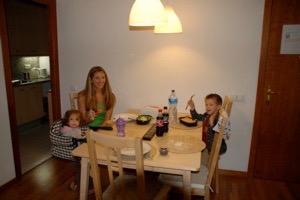 In the morning, we walked through Las Ramblas...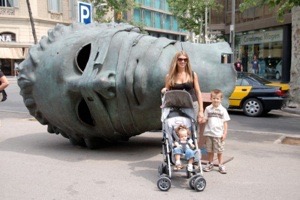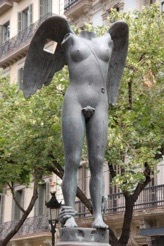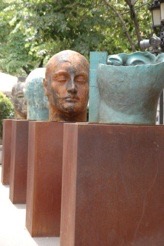 And Plaza Catalunya...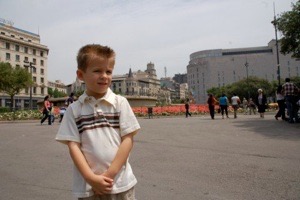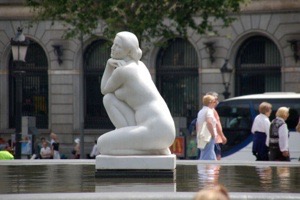 And took the bus to see La Sagrada Familia..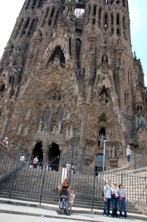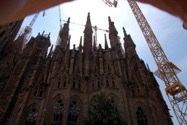 and on to Park Guell...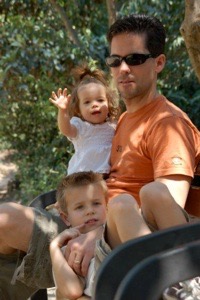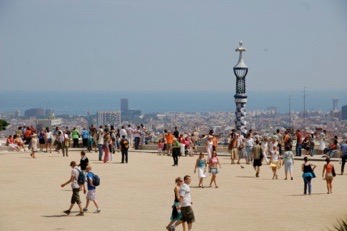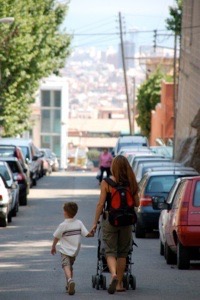 Walking the side streets above the city...
The people in Barcelona are great. Everyone assumes we are Spanish, which is cool, because we don't feel conspicuous at all. There is a great vibe here. This has to be the most kid-friendly city we have ever been in. Every single local hugs and kisses the kids when they see them. We don't have to pay for Hayden to ride the Metro or the trains here, and nobody charges us for his meals. We have found it pretty easy to fit in and I think the best thing is that we have realized we can do this - we are not intimidated by the unknown. Hayden has been unbelievable. The kid was born to travel. Neil and I were saying he is going to be the next host of Lonely Planet.
Today, we took the Metro and then another train to Montserrat.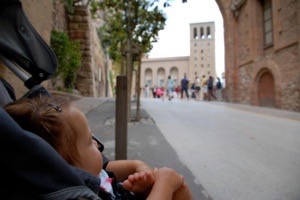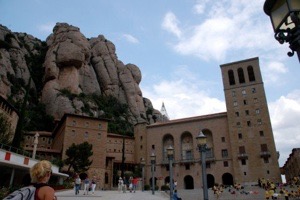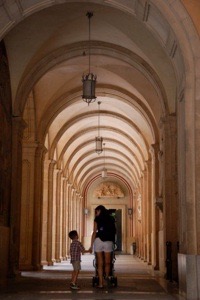 Tomorrow, we get on the ship and head toward Sicily. We love it here so much, we're glad we have a few more days here at the end of our trip.