If we were on the Amazing Race, this would have been the leg that would have cost us a million dollars.  We ended up having a good day here in Stockholm, but we were off our game for sure.  We took a cab from the port to the Vasa Museum because we didn't want to have anything to do with the big groups leaving the boat taking the sightseeing busses.  So, the cab ride cost us $70 to go about three miles.  We only had $100 worth of Kroners with us for the whole day.  The Muskeet Vasa is where you can see an unbelievably ornate wooden ship that sunk on its maiden voyage in 1623.  They brought it up from the bottom of the ocean in one piece.  It looks like the Disney people must have based the Black Pearl on this ship.  It was really cool and kind of creepy.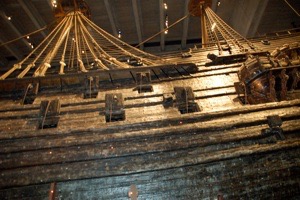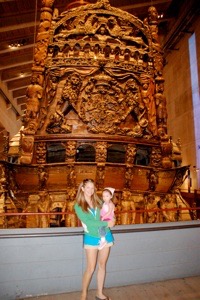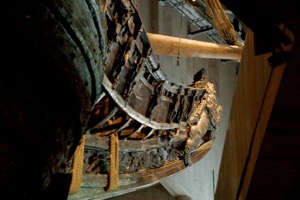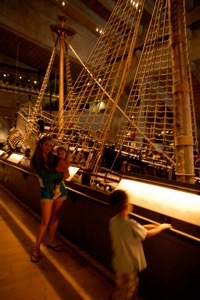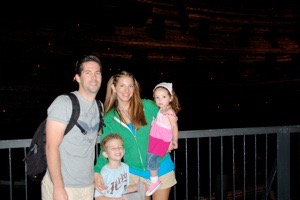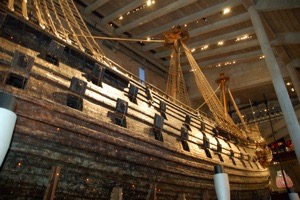 The museum was awesome.  It was really dark inside, so the pictures don't really show how elaborate the carvings are, or show how giant it is.  Violet really liked this guy.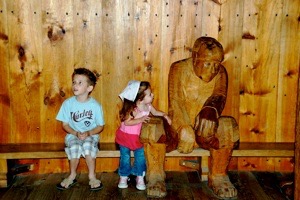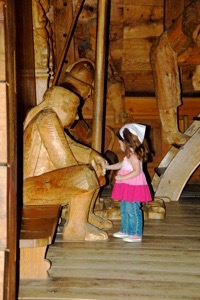 We thought we would be able to hop on the sightseeing bus after all since we were just about out of cash and couldn't afford another cab.  But, when the bus finally came after about 25 minutes, they didn't take credit cards.  We had to hike to an ATM, and then ran back to try to catch another bus.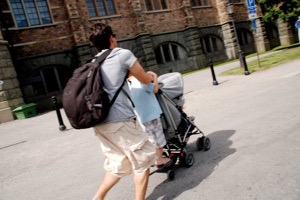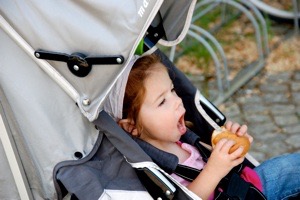 This is us running for the bus, which we missed.  There is some sort of issue today with the tides, so the ship is leaving port an hour earlier than was originally on the itinerary, so we were already pressed for time. Violet was really concerned, as you can see. We got on another bus and were able to see some of the city as we drove to our stop.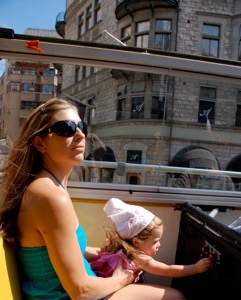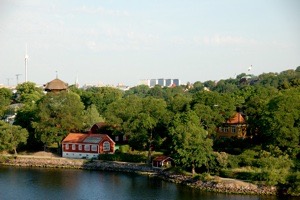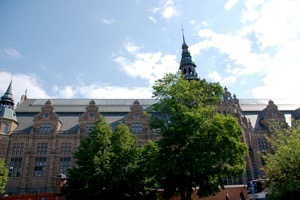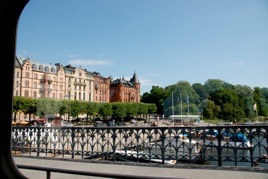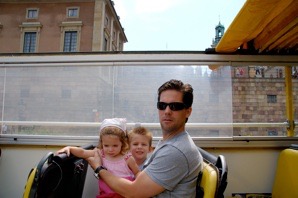 We got off at what we thought would be a cool place to shop, but what was really just a mall like at home, with mostly the same stores, just everything costing about ten times as much.  We did find a cool Swedish burger place that had veggie burgers - the first ones we've had since we left home.  We walked to where we thought the Absolut Ice Bar was, but we were wrong again.  We had to backtrack quite a ways, but we found it and were able to go right in.  It was DAMN COLD!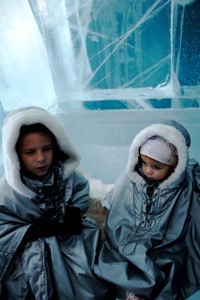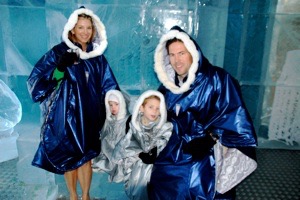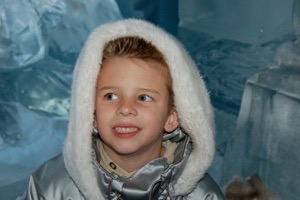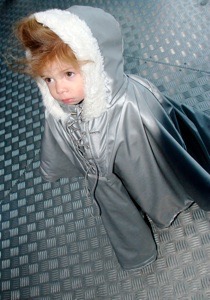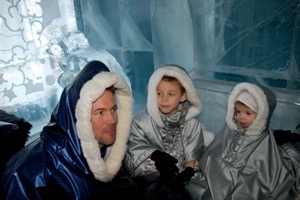 The Ice Bar was really fun, but the kids didn't want to hang out very long.  Outside was another bar with a big aquarium, so we had our customary local beer there before heading out.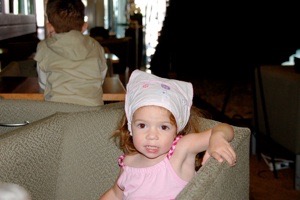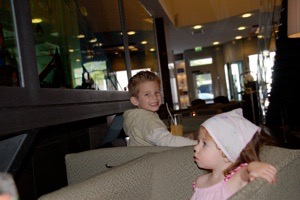 By the time we finished our drink, we only had an hour to get back to the boat, and we were pretty far from the port.  We walked to a taxi station, but the driver didn't seem to know where to go, so we thought we'd just walk (really fast).  We spotted another cab a little ways ahead, and decided not to risk the walk.  He didn't seem too sure either, but he got us here with only a few minutes to spare.  Everywhere we went, every single person we talked to spoke English except these two cab drivers.  Anyway, we made it back on the boat and are waiting now for the people who didn't seem to make it back in time so we can set sail. 
Stockholm is a big time metropolitan city.  It's beautiful and full of things to see.  We happened to be here when they have their annual food festival, so we got to cruise around and get a sense of what the culture and music is like here.  We have two days at sea now and then we go back to Dover.  We are staying in London another day and a half before we head home, but we haven't booked a hotel yet, or even really decided which area we want to stay in.  It's hard to believe we have been on this boat for ten days already, but at the same time, it seems like ages ago that we left home.