Today, we went to the White House first.  We took the Metro in to Federal Triangle station.  The area was fenced off, and we had to show our ID to get in.  Then we were photographed and cross- referenced to make sure we were who we said we were, then we got sniffed by security dogs, then walked through a metal detector.  Our phones and car keys got x-rayed.  Finally, we got to go in.  He has a Blue Room, Red Room, and Green Room!  They are decorated very well.  We also saw his dining room and the East Room.  The East Room is practically a Yellow Room, because that's how it was decorated.  Sorry, but no photography allowed!  We still got some pictures of us outside, so here they are: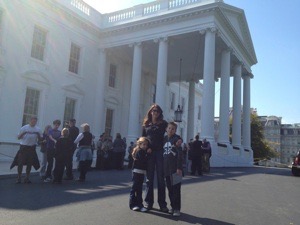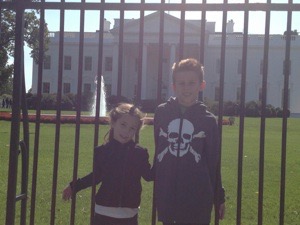 The left one is us on the outside of the White House.  The right one is us in front of the White House.
After the White House, we went to the National Gallery of Art.  There were two buildings; the west building, a pretty two-story with art dating back to the 1400s, and the east building, a super-modern five-story building with modern and abstract art in it. We did the west building first.  We saw some very pretty art.  We weren't allowed to take pictures, so the pictures I have are Internet downloaded (with one exception.)  Here they are (west building pictures):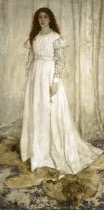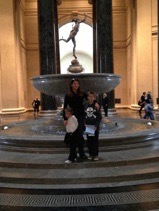 The first one is a Da Vinci. The middle one is Violet's favorite.  The rightmost one is the exception I was talking about:  us in the entryway.
Then, we went to the east building.  We saw lots of modern art.  They had Jackson Pollock pictures, and lots of others.  There were five levels.  We were on the Concourse, and we went to the Upper Level to see the modern art.  The Tower wasn't very cool, and the Mezzanine exhibit opened on Sunday, so my favorite level was the Upper Level.  The concourse level was where the abstract art was.  Here is my highlight of the east building, this Jackson Pollock: