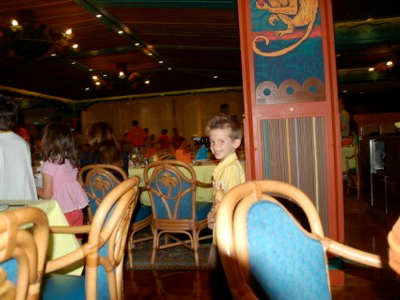 Our last full day on the ship, we had our character breakfast. Hayden had a great time.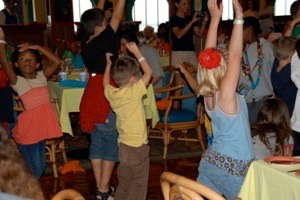 Got off the boat today with no problems, no wait. We expected long lines and a difficult time finding our luggage, but we were off the boat and in our cab in under 15 minutes. It feels good to be back in Barcelona. We dropped our bags at the hotel and headed back to downtown to La Boqueria, an amazing open air market. We wish we were staying in an apartment again because we would have stocked up on the freshest fruits and veggies we have ever seen. We took a long walk on the beach, hunted some shells… Hayden found a BB ball, he also found one in France. We decided to go to L'Aquarium since we were on the waterfront. The aquarium had a cool "let the sharks swim above you" thing. Violet and Hayden both had a great time. Then we headed out to check out some Gaudi buildings. Stopped and checked out Casa Batillo, check out the pic's. It was sprinkling at the time so it was a quick stop. We went back to the room and took a nap, then back to the city. Had another great meal at a café. Made it over to the water and light show at Montjuic. Had to go the long way around since they were also having the international auto show on the grounds. Finding a cab was very tough at 10:30 on a Saturday night in downtown. You'll never get one unless you basically piss someone else off by cutting in front of them. We're back to the room now and planning on hanging out by the pool tomorrow and getting ready for the ridiculously long travel day ahead. We are excited to get home and sad to leave. Hayden wants to go back to the boat. He is already insisting on another cruise. See you all soon!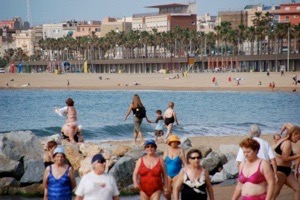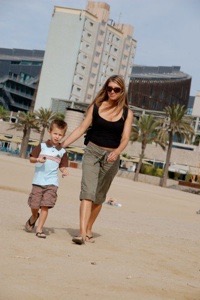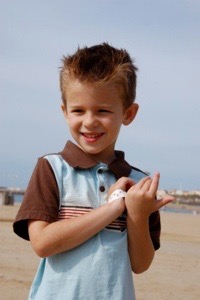 Looking for shells on the beach at Barcelonetta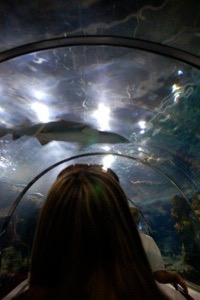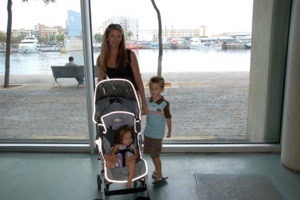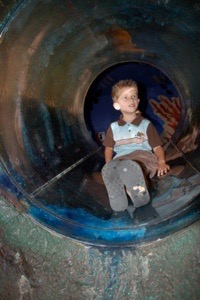 Our afternoon at L'Aquarium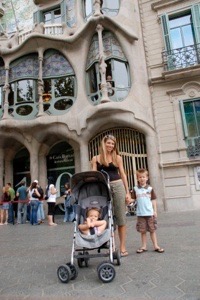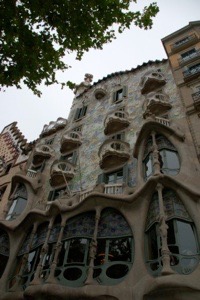 At Gaudi's Casa Batillo - a building designed to represent the slaying of a dragon.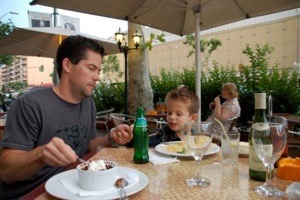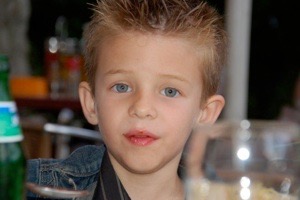 Dinner - they eat late here in Spain - 9:30 (and it's still light out!)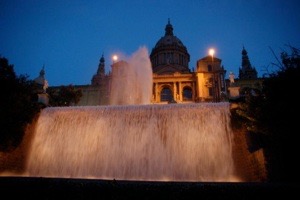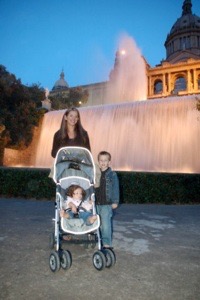 Fountains at Museo Nacional de Art Catalunya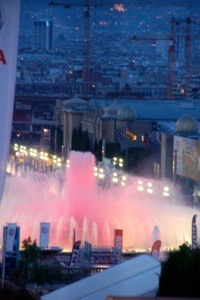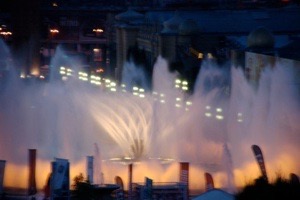 Font Magic show at Montjuic