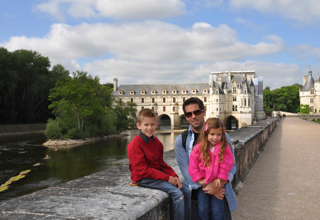 Today, most of the family woke up at 3 a.m. I woke up at 7. At 9 we drove to Chenonceau chateau in the town of Chenonceaux. Can you say that? I think it's hard!  Here are some pics of the castle:




After the castle, we went to world's biggest disappointment:Mini Chateaux.  The ads said there were models of all the castles and electric trains running around them, but the castles were tiny and 75% of the trains never even run.

After a waste of 45 euros(about $60), we headed home. we took a 4-hour nap.  We can't seem to adjust to the time.  That's why i'm writing this at midnight and i'm not tired.
After our super-nap we headed to the loire river.  There are tons of fish in the river.  We saw some giant grapes:

We snuck onto the grounds of Bourdaisiere Castle.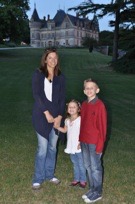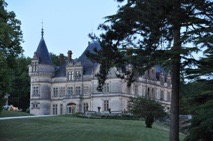 My collarbone is fine.
i miss you:

Chunda, Trevor, Dashan, Caden, Asandra, Devin, Quinn, Isaac, Garrett, Chase, Ty, Bradley, Adrienne, Kasmira, Wyatt, Zoe, Hunter, Rosie, and Eli!

And of course, Ms. Julia and Ms.Linda!!!!!