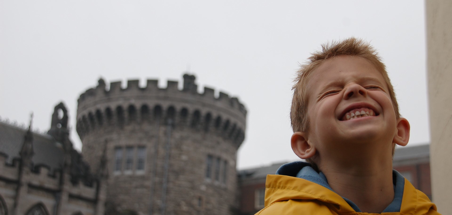 Today, we grabbed our backpack, raincoats, camera and umbrella and took the LUAS into Dublin for the day.  We realized the rain cover for our stroller got lost somewhere between San Diego and here, so we went a few places before we were able to track one down.  It was raining all day, but not nearly as hard as when we were in Dublin last year.  It was totally manageable.  Our first stop was Dublin castle.  As you can see by the top picture, Hayden thinks Dublin castle is hilarious.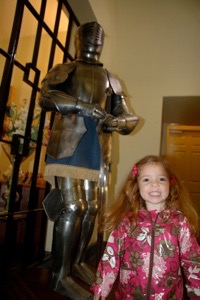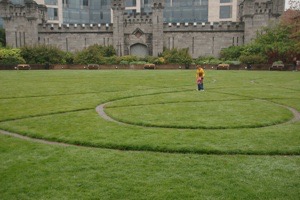 From here, we went to the very cool St. Patrick's Cathedral.  It is massive and it's just impossible to believe how old it is.  The original church existed in the 5th century, and the current building was built in 1190.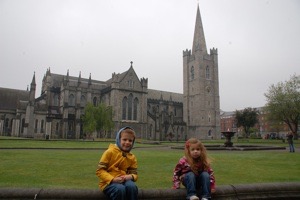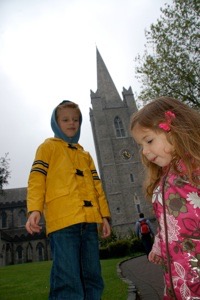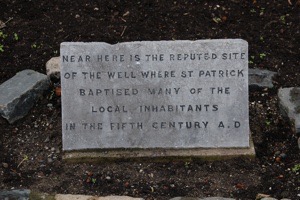 We walked along to Christ Church Cathedral, built in 1030.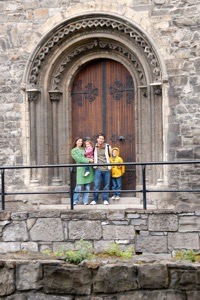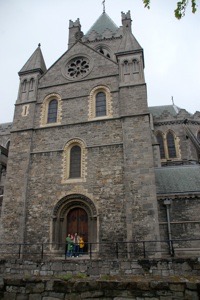 It was very impressive inside with beautiful stained glass.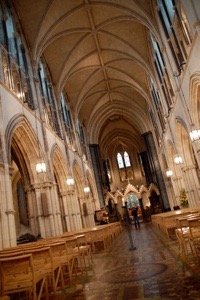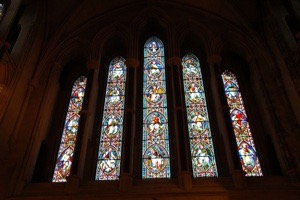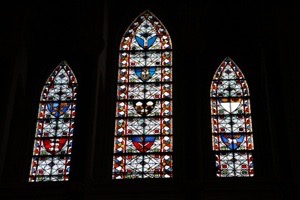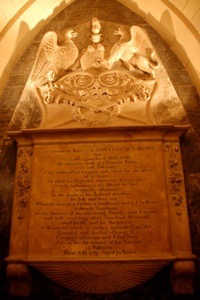 Probably the coolest thing about Christ Church cathedral was the crypt underneath.  The stone arched crypt is the original Viking church and the oldest structure in Dublin.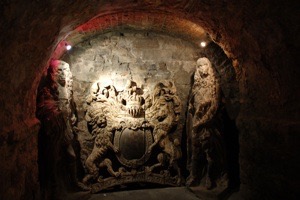 Photography isn't allowed in most of the crypt, so not much to show, but it was amazing to see tombs from the 1700s.  We've spent a lot of time in graveyards, old churches, tombs, and crypts on this trip.  Not our usual focus, but there is something unique about the cemeteries here - they are very beautiful and peaceful places to be.  Our next stop was down near the Liffey river for lunch.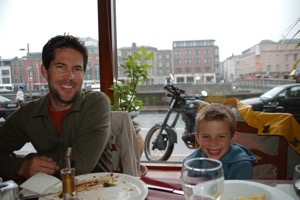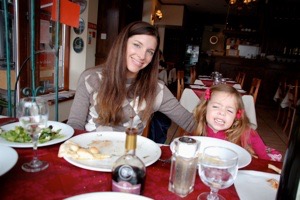 We stopped at the Guinness Storehouse too.  We saw it on our stop in Dublin last year, and it wasn't really worth the return trip.  A great pint of Guinness, but too crowded in the Gravity Bar to really enjoy our drink.  We should have just stopped in a regular pub.  Oh well - there's still tomorrow.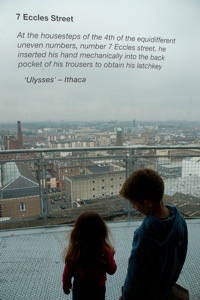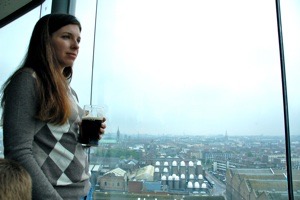 We just put the kids to bed and are trying to figure out what to do tomorrow.  We're thinking either another day in Dublin, or maybe we'll head back to Wicklow Mountains or out to Dalkey, or maybe all three.
I can't find the cool radio station I listened to the first night, and so far, we have been stuck listening to the Ireland top 7 hits over and over and over:
1.

Poker Face - Lady Gaga


2.

Single Ladies - Beyonce


3.

Human - Killers


4.

Shake Shake - Metro Station


5.

Jai Ho - from Slumdog Millionare


6.

Love Sex Magic - Justin Timberlake and Ciara


7.

Not Fair - Lilly Allen

Even Violet could probably sing you all seven of these songs from start to finish.  Seriously, it's only these songs.  All the time.  That is my only complaint,  that and the fact that Neil and I are living on nothing but bread, cheese, bread, beer, water, bread, Honey Cheerios, and more bread.  I was so happy to have a salad today with lunch.  Oh, and we haven't run a single time.  And we're running a marathon in two weeks.  We like to think of it as our pre-pre-pre-pre-pre-race taper and carb loading.