Today, we didn't have any stuff to do, so we headed out to go hiking.  We went to this cool place called Great Falls.  It has these cool trails near the Potomac River.  We headed out on the River Trail, and it went right by the river!  It was beautiful.  We went down all the way to Sandy Landing, and there were a lot of rescue boats down there.  When we were hiking back, a ranger ran past us really fast!  Then we heard all the boats fire up, full speed, and saw them go past.  We thought they were training, until a National Park Service helicopter swooped down around 40 or 50 feet above the Potomac River.  We hoped nothing bad had happened! Pictures, coming right up: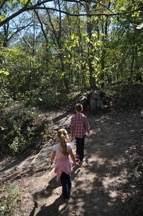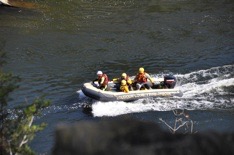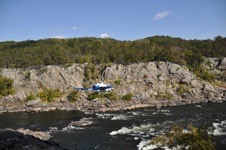 The leftmost one:  The beautiful River Trail.  The center one:  A rescue boat.  The right one:  The helicopter flying low.  You can't see it, but two rangers are waiting to jump out of the chopper.
After, Mom said she had a surprise for Violet. It was the American Girl store!  We looked in there, then went to some clothes stores for Mom and Dad.  Then, we went to Barnes and Noble, and we both got a book.  I got a Big Nate comic book and Violet got a Bad Kitty book.  Then we went in the Lego store.  It was awesome!  I wish I could type bold on iWeb or 'awesome' would be in bold!  They have a big wall with bins full of Legos!  We got the Advent Calender Lego set.  Then we went home.
Signing off for now (again),   Hayden M. Strong