We must have had a lot of sleep to catch up on because we didn't wake up until 11:00 this morning.  We finally made it out of the house at 1:30.  We walked through the rain to catch the tube and headed down to the Thames to see the Tower of London and the Tower Bridge (in the rain).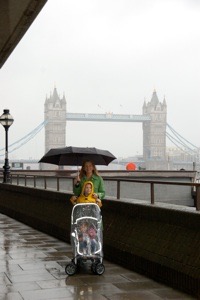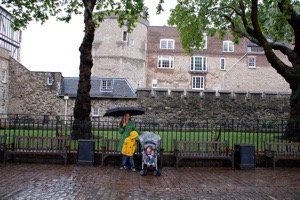 Not only was it really raining, it was pretty windy too.  Our $50 Brookstone rectangular family-sized deluxe umbrella could not contend with the foul English weather.  That thing blew inside out constantly and it broke before we made it home!  We wanted to head to the Tate Modern museum next, but when we got to the tube, we found that the station was closed since today was a bank holiday.  So, we found a bus (in the rain) and hopped on, but we missed our stop somehow and ended up back down near the London Eye.  Did I mention it was raining?  We were close enough to walk to the Waterloo tube stop, so we headed north to Oxford Circus to do some shopping.  Neil needed a hat and I needed shoes (what with all the rain), but we didn't end up finding either.  It was raining too hard and there were too many shops to chose one to go into.  We did make it to Hamley's though. Hamley's is a gigantic toy store with six levels, each with a different theme.  We headed to Level 4 first, for Hot Wheels and Model Cars.  Then to Level 3 for girl's toys, and then checked out the basement for Legos.  Hayden got a cool Hot Wheel car and Violet got a little purple purse.  Here is Hayden sitting in the life size Hot Wheel.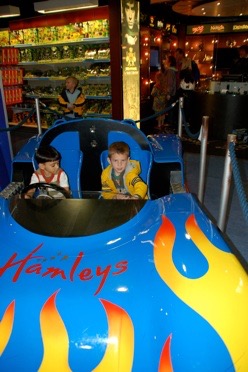 We stopped at Boots on our way home and got another umbrella.  Hopefully, it will serve us well tomorrow in Ireland (where they are expecting AM rain).  Neil thought about McGruber-ing the old one so we would have two, but didn't have the energy tonight.  "Making umbrellas out of household materials...MacGruber!"
We have to be out of here by 5:30 tomorrow morning so we can catch our flight to Dublin.  We didn't really realize that because our flight to Ireland leaves out of Gatwick airport and not Heathrow that we would have to go quite a ways further than we did to get here.  The plan is to take the tube to Victoria station, then take the National Rail's Gatwick Express train to the airport in time to catch our 8:45.  Hopefully, it goes well.  The kids are already asleep and we're about to go to bed too.  We're hoping for less rain and lots of Guinness tomorrow!  There aren't too many picture from today, but click here to see them.