Paris!  Sunday morning, we took the Eurostar under the English Channel and two hours later, we were in Paris! We stayed at the gorgeous Hotel Chambiges Elysées, right in the heart of the Champs-Elysées in the 6th arrondissement.  We dropped off our luggage and went for lunch at the same café we went to our last time in Paris, six years ago!
After lunch, we walked along the Seine and soaked up the atmosphere. 
Our driver and guide Philippe picked us up in the evening and we headed out. We basically covered the entire city and saw so much, like the Opera House...
…Notre Dame (where we kind of re-created a picture from six years ago!)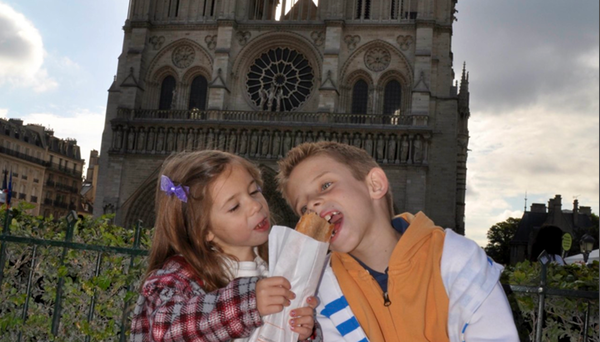 …the Moulin Rouge...
…and we finally ended up at the top of the hill at the spectacular Sacre Couer.
We found a restaurant that was open for dinner at 10:30 pm and were there until almost midnight.  After dinner, we headed back to the Seine to see the Eiffel Tower in the mist.
We walked back to the hotel and planned to get up the next morning and head to Le Louvre.  Except…we didn't wake up until 11:00!  We threw on our clothes and grabbed an Uber, but when we got to the museum, the line was the longest we have ever seen, and we would never have had enough time.  So, we headed back to the hotel for hot chocolate and coffee, and then back to Gard du Nord to catch the train back to London.
The plan for tomorrow is to check out the Tower of London and maybe Abbey Road, if the weather cooperates.  If not, then we will go to The National Gallery.
Cheers!