So, we checked e-mail one last time before we left London and we had an e-mail from our travel agent saying that our cruise line had called and offered an unbelievable upgrade for cheap.  We tried to call the U.S., but they were gone so we thought we missed our chance.  Anyway, we got the hookup on the boat.  FAT Suite!!!!!!  2 bedroom 2 bath, living room, dining room, deck, concierge, butler.  Unbelievable.  The room is gigantic, it's awesome for Hayden and Violet.  They have been running wild.  Here are the White Cliffs of Dover and Dover castle.  (note the rain.)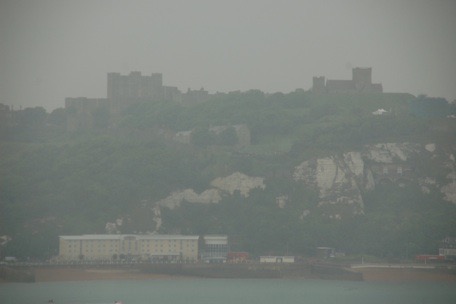 We are cruising in the North Sea right now and Hayden is off at the kids club having a blast.  There are only 60 kids on the entire boat from 0-13 years old.  So, the kid to counselor ratio is awesome.  There is a Wii tournament later this week, I am sure he will dominate.
Sea day on Friday and then Copenhagen.
Okay, Neil wrote that last part above and he did not fully communicate the awesomeness of this cabin!  We are not just in a suite.  We are in a penthouse suite.  This is the living room, dining room, and the bar...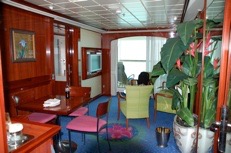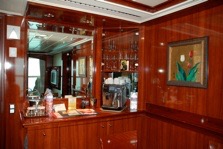 Here is the bathroom in our bedroom.  It has a big tub and one of those great showers with all the shower heads, jets, and water bars.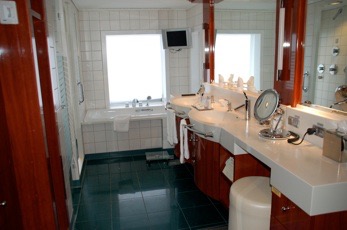 This is our bedroom...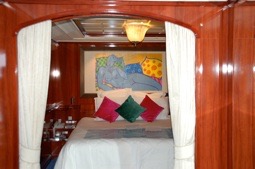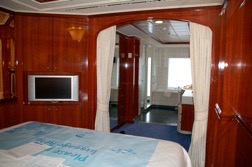 There is a big balcony and the kids room and bathroom are really nice too.  Our butler, (Maurice!), brings us fresh fruit and flowers every morning, cheese and crackers in the afternoon, cookies for the kids before they go to bed, and a late night snack for us at 10 every night.  We have our own concierge and steward too.  I haven't even stayed in a hotel room this nice before.  We didn't think the room was that important, since for us, cruises are about the countries you visit and not the boat.  For this trip, when we booked, we got a mini suite with a balcony just to have a little extra room.  But, now having spent the first day and a half in this place, it makes a huge difference!  This room is just incredible.  This morning, we all slept late and had breakfast.  We dropped the kids off while we went running on the track outside.  It was nice, but pretty windy.  We are trying to get ourselves adjusted to the time so we make sure to get an early start for Copenhagen in the morning.  We had to set the clocks an hour ahead last night, so now we are nine hours ahead of San Diego time.
We just got back from going to our first ever cruise ship show (possibly the last.)  Low budget Dancing With the Stars meets Solid Gold meets Karaoke Night with a splash of desperation.  We loved it!!!!  We hated the first two minutes, but were so in shock we stayed for the entire disastrous performance.  It was actually immensely entertaining.
We had a quick drink at the bar and picked up the kids.  Violet made a princess crown and wand and Hayden played a lot of cool games.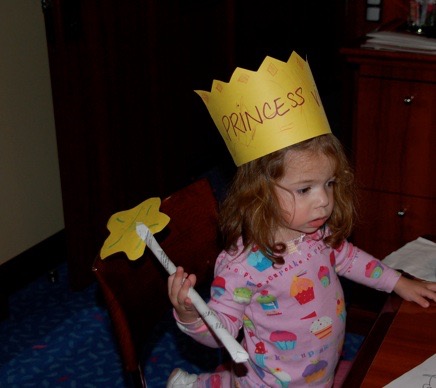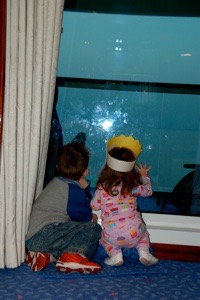 This is how light it is at 10:00 at night.  That is the coast of Denmark in the background.