Today we arrived in Germany.  We decided not to go all the way to Berlin after all.  We checked the forecast and it was supposed to be in the 90s.  None of the buildings or trains have air conditioning and it just seemed like a long time to be stuck somewhere hot with no way to escape it.  So, we walked into Warnemunde and walked down the cobblestone streets.  Warnemunde is a resort town and all the locals were heading to the beach.  We followed them to the huge sandy beach and got our toes in the freezing Baltic.  It was as cold as Lake Tahoe.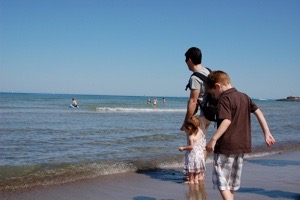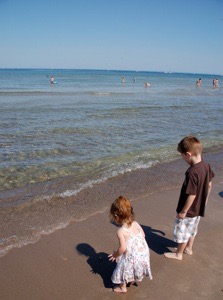 We walked along the waterfront back toward the train station.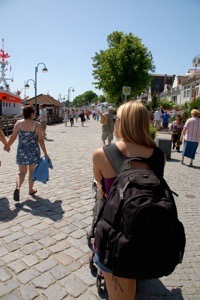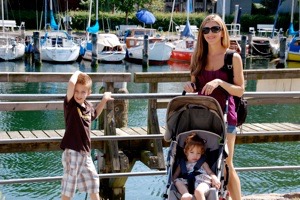 It seemed like the town of Rostock was the bigger town with more to see.  The ship offered shore excursions that went there, so we took the train there.  We decided to walk to the town.  We didn't realize it was such a long way and that there were trams that took you from the train station.  Because it was Sunday, almost everything was closed.  We finally made it to the main town and had some lunch at an outdoor cafe.  We had to get a couple Rostockers - the beer brewed in the town.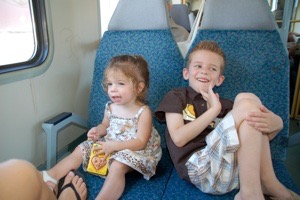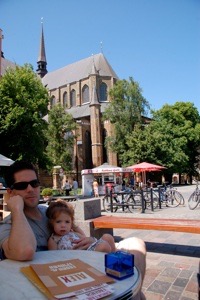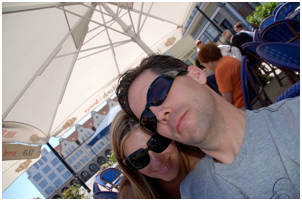 After lunch, we walked around a little more in Rostock.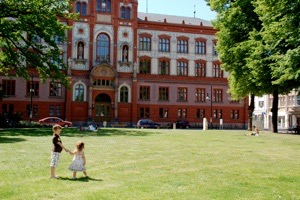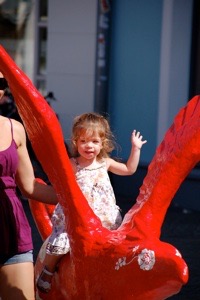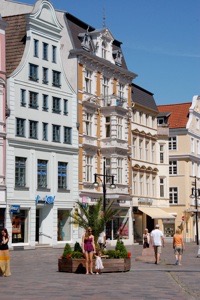 There wasn't a lot to do or see.  We would have been better off to just stay in Warnemunde.  Neil stayed in the room with the kids while I went to the spa in the evening, which was really nice.  Today, we're at sea. It seems like every day we have to set the clocks ahead.  Now, we are ten hours ahead of California, and another hour ahead as of tomorrow in St. Petersburg.  It's hard to stay with any sort of routine.  We're all wide awake until at least eleven at night because it's still like daylight.  This morning, we planned to get up early but it's already 10:30 and we're all still just waking up.  If we can get motivated to get dressed and ready, we are going to take the kids to the Kids Club and go to the gym. At the moment, we're watching Disney's Cars in German.  Mater in German is the funniest.  He sounds like Ludwig Von Duck. 
But the really big news is that Hayden has his first loose tooth!  He might even lose it on the trip.