This morning, we packed up and left our house in Tuscany and started driving towards Rome.  We stopped in Orvieto, a medieval town built on top of a big hill with huge walls all around.  We rode the funicular up into the town.
We checked out the incredible duomo…
We looked over the edge of the wall at the beautiful view.
We found a great cafe off the main streets and had a nice lunch.
And then got back into Rome.  Driving in Rome is no joke.  I'm so glad Neil does all the driving because I would have a nervous breakdown.  We checked into our apartment in the Borghese Gardens section of Rome.  We have stayed in a lot of apartments and houses in Europe, but this is the most beautiful.  It's a huge penthouse in a 1930s building with a fantastic terrace.  It's the perfect blend of classic character and modern luxury.  I'll take pictures of this place and post them tomorrow.
From the apartment, we walked through Borghese Gardens and ended up at the Spanish Steps.  
This is our fourth time in Rome and we have never seen it so crowded!  Saturday night is not the night for sightseeing. We felt so bad for the people we saw last night trying to visit all of the main sights - defintely not ideal conditions.
From the steps, we headed to Trevi Fountain, but it was empty and covered with scaffolding.  So, we headed to the Pantheon.  It was super crowded there too, and they closed the doors just as we walked up.
So, we decided to just call it a day, and not fight the crowds.  We took a taxi back toward our neighborhood to a restaurant our host recommended.  It was a very good decision - this place was amazing.  Almost all locals, and wonderful food and atmosphere.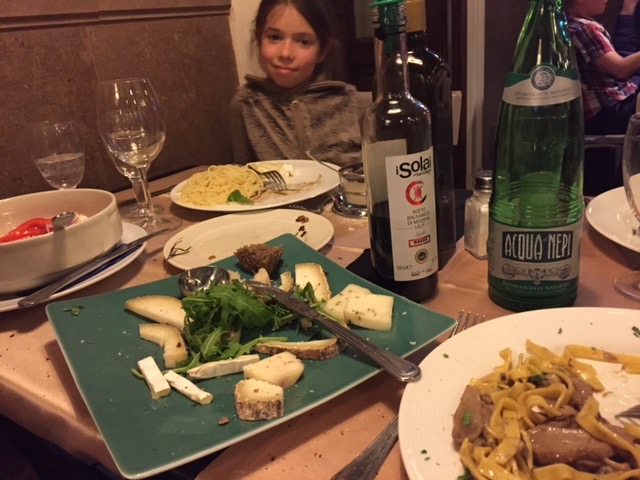 We had another great meal and walked back to our apartment where we relaxed on the terrace and then got some sleep.  Tomorrow is our last day here before heading home.  It's hard to believe it's almost over!