Following our quadrifecta of marathon days, we all agreed that the best activities for today were rest and relaxation.
After sleeping until 11:00 am, we decided to book tickets for an afternoon river cruise on the Seine. After eating lunch at a small Parisian café, we took the Métro down to the Pont-Neuf (New Bridge), actually the oldest bridge in the city, where the boat dock was located.
Our cruise was operated by Vedettes de Pont Neuf (vedette being French for a type of small boat) and consisted of a one-hour tour down Paris' main river, the Seine, passing by many of Paris' main landmarks, such as…
Notre-Dame, the world's most famous cathedral.
La Tour D'Argent (The Silver Tower), the most prestigious restaurant in the city.
Musee D'Orsay, a museum dedicated to 19th-century and Impressionist art housed in a converted Victorian-era train station.
Tour Eiffel. (For more details regarding this structure, kindly visit the blog post entitled "Tours, Tower, Triangles". That concludes this brief marketing message.)
A fake T-Rex skeleton perched atop a commercial boat dock along the Seine for some bizarre reason.
After our tour concluded, we took the Métro back to our apartment. The Métro trains that run on our line were manufactured by Alstom in the 2010s and feature interlinked carriages, indirect lighting, and foldable seating, and are also completely automated. The lack of a driver's compartment means passengers can sit in the front of the train, allowing cool photos like this one.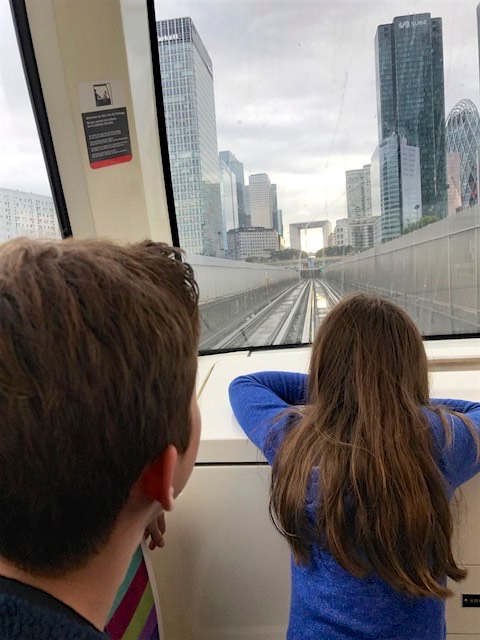 Tomorrow, we will visit an incredibly authentic, culturally enriching, traditionally French attraction: Disneyland Paris.
Farewell,
Hayden M. Strong