Copenhagen is one of the the most beautiful cities we've seen.  Everywhere you look, you see something incredible.  We had a perfect sunny day to explore and we got off the boat early.  We walked from the boat to the city center's castle and cathedral, and passed the famous Little Mermaid statue and a bunch of others on the way.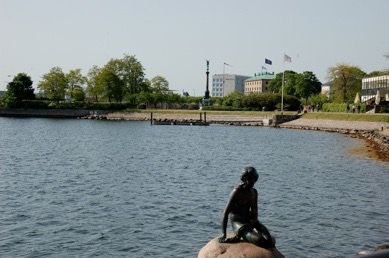 Everywhere you look, there are huge stone churches with big steeples, sculptures, and fountains.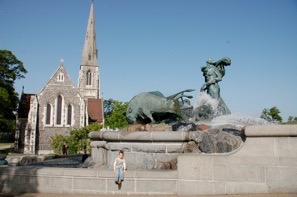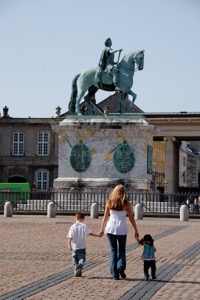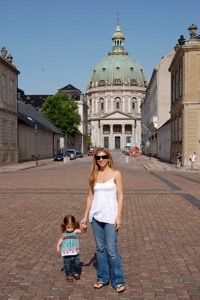 Here's Violet trying to sneak into the Cathedral.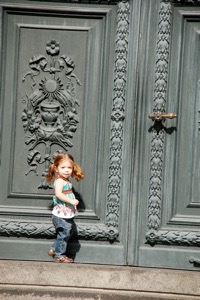 We walked along the canal and headed toward Tivoli - a Danish-style Disneyland.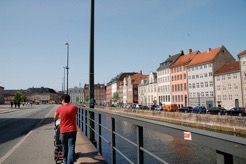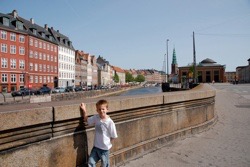 We weren't sure what we would want to do once we got inside the amusement park, so we just paid for our admission and unlimited rides for all of us.  780 Kroners or about $200 US just to go in.  We had a good time, but it was really expensive.  We walked up, saw a ride, and decided to go on it.  It was called Spinning Top, and it looked like a Tilt-a-Whirl.  But, this ride was not kidding around.  Hayden was terrified, but he was a good sport about it.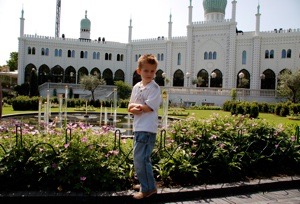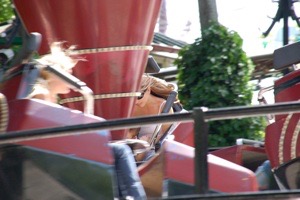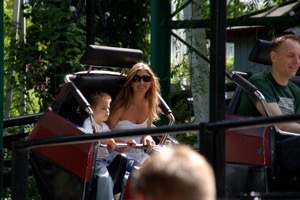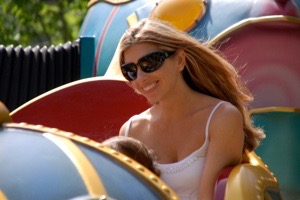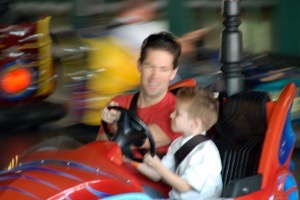 We went on a few more rides...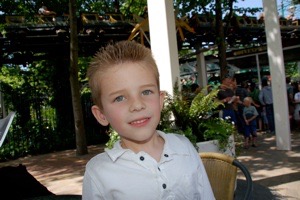 Hayden went on a roller coaster with Neil and loved it.  They said it was just like Thunder Mountain at Disneyland.  Here he is right after with the ride behind him. We are so proud of him for conquering his fear of fast rides!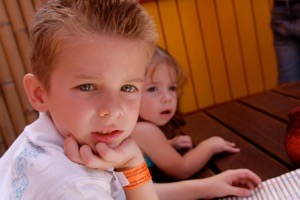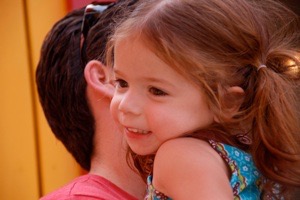 We took a long walk all through the city after we left Tivoli.  Copenhagen is so different than anywhere else we've been.  The people are really laid back and cool.  They are definitely not in a hurry - the pace is pretty slow.  They seem to like hanging out in the beautiful parks, enjoying the sunshine, and they really like to ride bikes.  We probably saw five bikes for every one car.  We didn't know how to really say much in Danish, but everyone speaks English anyway.  Loved today!  Tomorrow, we're in Germany.  We planned on just staying close to where the ship docks tomorrow and checking out the seaside towns, but now we're wondering if maybe we should just take the train the 2 1/2 hours (each way) to Berlin.  We're going to look into it a little more tonight.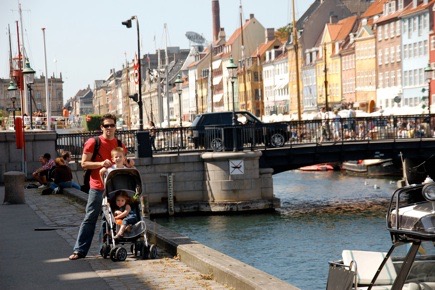 Yay Copenhagen!